Quality and Customer Perception
As Peter Drucker, management consultant, educator, and author famously said, "Quality in a service or product is not what you put into it. It is what the client or customer gets out of it."
True to our product and brand, we care deeply about our customers – what they say, how they feel – and in turn, what resulted because of it – whether that was protecting or growing an investment, getting advance warning, or gaining a true 360° understanding into what clients really want and need to be successful. Our clients rely on us every day to provide a pleasant interview experience or key insights during consultations and speaking engagements.
PROTECT & GROW THE INVESTMENT AND RELATIONSHIP
"We have used the TIP process a number of times. The customers have been very supportive of the process and in one case had TIP interview their customer as well. The information obtained was used by both the client and us in developing a stronger relationship. This process demonstrated to our clients their importance and our joint success."

– Federal Civilian Sales Lead, U.S. Public Sector, Fortune 100 Company
"It was a pleasure meeting and speaking with you today! It's nice to see the (Company X) is committed to improving their level and quality of support."
– Senior Manager, U.S. Federal Agency
GET ADVANCE WARNING
"Invaluable and uniquely insightful is a modest characterization. You give us more value received that any other 3rd party assessments, bar none."
– President, Civilian Sector group (SI)
"We used the TIP Assessment process to better understand our military client's concerns regarding our performance. Through this process, we were able to come to the table ready to address their needs as well as respond to things that we did not realize were sensitive issues for our client. The process worked great for improving our relationship and ensuring our continued business with this client."
– Corporate Vice President, Sales and Marketing, Fortune 500 Company
GAIN A TRUE 360° CUSTOMER UNDERSTANDING
"We worked with Transitions in Progress to conduct a TIP Assessment that required engaging with senior executives both internally as well as externally with our customers. The TIP consultant's ability to comfortably engage at these senior levels in a very structured fashion enabled us to gain valuable insights that have proven very useful in shaping both our current customer relationships, as well as our capture activities."
– Director, Strategic Capture, Fortune 500 Company
THE TIP ASSESSMENT® PROCESS
"The TIP methodology, combined with the consultant's experience, resulted in an efficient and comprehensive outcome that was spot on in regards to satisfying our VOC objectives. Nothing but positive feedback across the board from those interviewed at all levels of our customer's organization. Everything was completed on schedule and within budget."

– Vice President, Capture, Fortune 500 Company
"The TIP brief was great. We generated a lot of good data and new ideas from your presentation."
– VP and GM DoD Programs, Fortune 500 Company
To see a sample list of our customers, please visit our About Us page.
Gaining a true 360° understanding into what your clients really want and need to be successful means that the process must be well-received by all parties. Transitions in Progress has a proven track record of doing just that … with the goal of creating a more perfect union.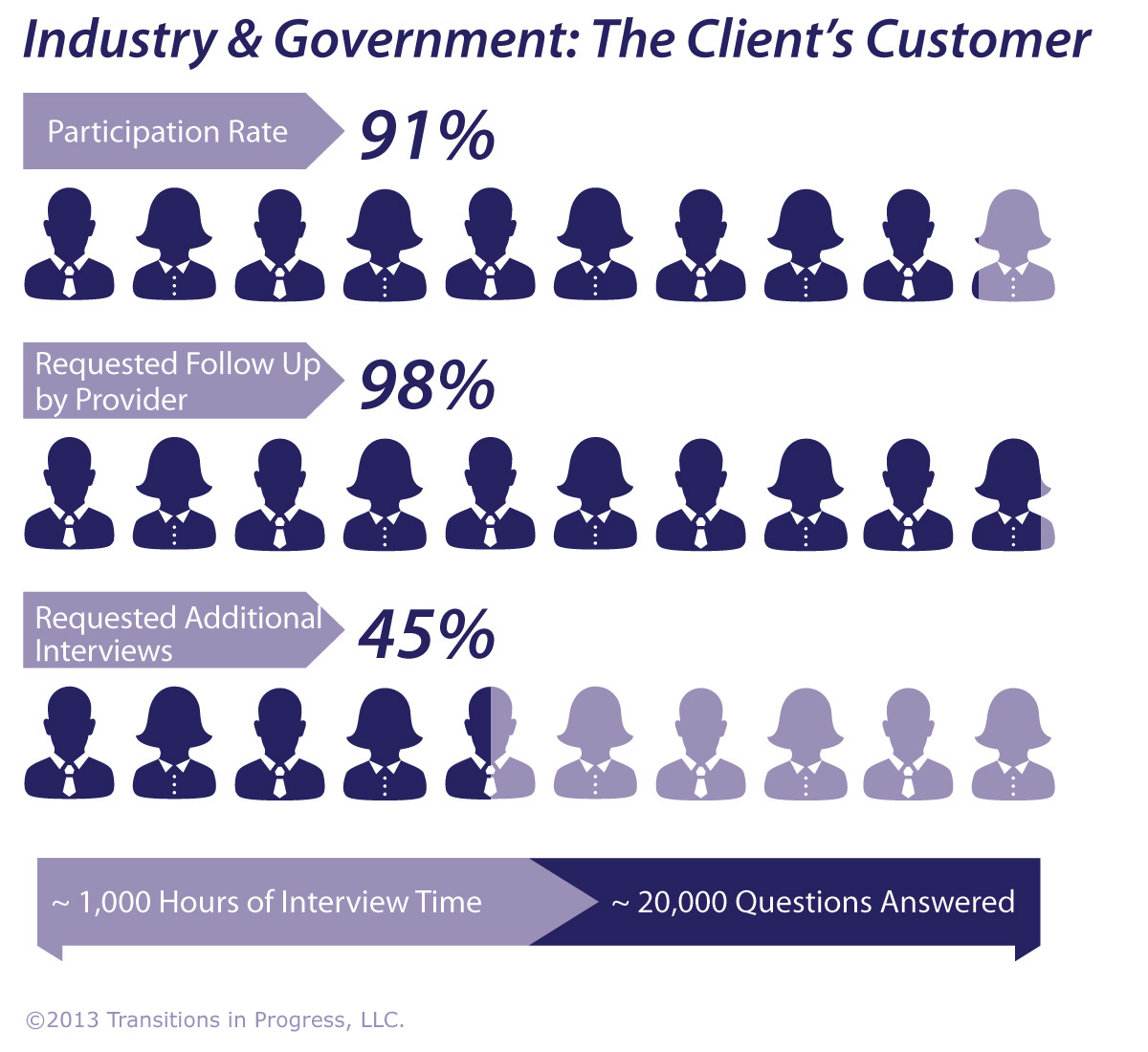 Contact us today to start achieving a unified connection between you and your clients.