TIP personnel have worked in the real world and are bringing real-world results to industry and government every day. It's in our DNA. And we'd like to arm you with those results, too. However you define success – reaching bottom line goals, accomplishing the mission, or establishing a more perfect (and lasting) union – the insights and unified outcome provided by TIP are powerful and help fuel future successes.
From Leading Crews to Uniting Parties in Business Transformation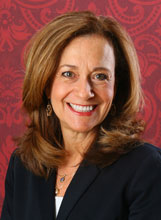 Transitions in Progress was founded by Carla Villarreal, a retired Navy Captain, to provide value-add, quality consulting services for industry and government partners working to expand and improve their relationship and performance with their government and commercial clients. Her passion to unite parties stemmed from her work in the Navy and grew while she worked and prospered in Fortune 500 companies.
Carla's ability to lead and facilitate is acclaimed by Harvard University executive education professor and noted author of "Your Leadership Legacy," Robert Galford, who penned, "Carla Villarreal is like an insurance policy for a successful session. She understands how to work with leaders, and her sensitivity to both process and content marks her as an exceptional talent in the field."
Carla's small, but laser-focused staff, shares her passion for improving relationships and performance. These senior-level professionals have years of experience interviewing, analyzing qualitative and quantitative data, and packaging briefs to senior executives. This level of personnel, coupled with the company's cultural DNA, help provide high standards which, in turn, ensures high quality results.