Our DNA
Are you or individuals on your team responsible for ensuring that business relationships are not only healthy, but thriving? Do you have an early warning detection system in place? Do you have clarity, focus and insight into what your clients really want and need to be successful? Or are you occasionally blind-sided by "out-of-left-field" comments?
Transitions in Progress (TIP) assesses organizational needs internally and externally with the goal of understanding how to truly delight customers. This process not only validates existing thoughts, but also provides new and critical insights.

The TIP Assessment® layers a Voice-of-the-Customer approach with a proven process, along with 1:1 interviews ranging from front-line personnel to the executive level on the client and provider side. Both qualitative and quantitative responses are analyzed via TIP Analytics™, a portal-style proprietary application enabling a true 360° understanding of the environment.
TIP personnel have worked in the real world and are bringing real-world results to industry and government every day. It's in our DNA. And we'd like to arm you with those results, too.
However you define success – reaching bottom line goals, accomplishing the mission, or establishing a more perfect (and lasting) union – the insights and unified outcome provided by TIP are powerful and help fuel future successes.

A Sample of our B2B, B2G, G2G, or G2C Customers and their Clients
(Deals range from $30M to $3B)
BUSINESS / INDUSTRY
BAE
CACI
CDI Marine
Computer Science Corporation (CSC)/CSRA/GDIT
Deloitte
General Dynamics
G&B Solutions
Hewlett Packard (HP) now DXC
Harris
HII
IBM
L3 Harris
Leidos
LMI
Lockheed Martin
NGS Anthem
Northrop Grumman MS and TS
PAE
STG now a subsidiary of SOS International LLC
Unisys
Vectrus
VSE Corporation
GOVERNMENT CLIENT
Department of Homeland Security (DHS)
Defense Information Systems Agency (DISA)
Federal Emergency Management Agency (FEMA)
Federal Bureau of Investigation (FBI)
Federal Reserve Bank
Internal Revenue Service (IRS)
Missile Defense Agency (MDA)
National Aeronautics and Space Administration (NASA)
USAID
U.S. Air Force (USAF)
U.S. Army
U.S. Citizenship and Immigration Services (USCIS)
U.S. Coast Guard (USCG)
U.S. Commodity Futures Trading Commission (CFTC)
U.S. Department of Housing and Urban Development (HUD)
U.S. Department of State
U.S. Department of the Interior (DOI)
U.S. Marine Corps
U.S. Navy
From Leading Crews to Uniting Parties in Business Transformation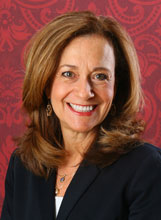 Transitions in Progress was founded by Carla Villarreal, a retired Navy Captain, to provide value-add, quality consulting services for industry and government partners working to expand and improve their relationship and performance with their government and commercial clients. Her passion to unite parties stemmed not only from her work in the Navy, but grew while she worked and prospered in Fortune 500 companies.
Carla's ability to lead and facilitate is acclaimed by Harvard University executive education professor and noted author of "Your Leadership Legacy," Robert Galford, who penned, "Carla Villarreal is like an insurance policy for a successful session. She understands how to work with leaders, and her sensitivity to both process and content marks her as an exceptional talent in the field."
Carla's small, but laser-focused staff, shares her passion for improving relationships and performance. These senior-level professionals have years of experience interviewing, analyzing qualitative and quantitative data, and packaging briefs to senior executives. This level of personnel, coupled with the company's cultural DNA, help provide high standards which, in turn, ensures high quality results.
Contact us today to start achieving a unified connection between you and your clients.